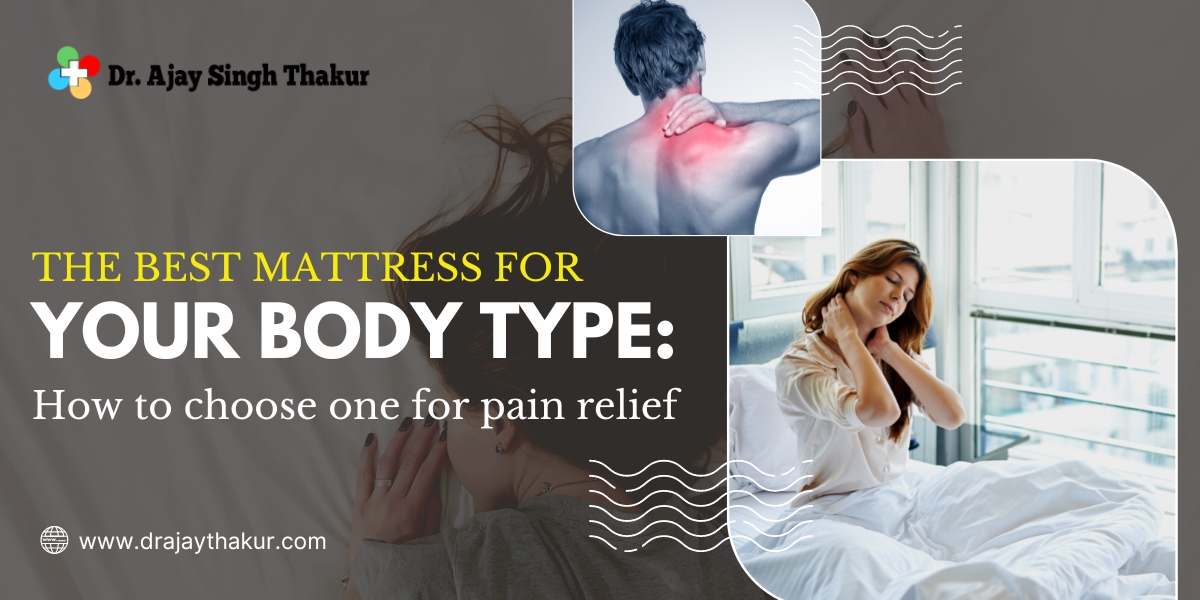 A difficult challenge is selecting a mattress. Consumers typically consider the materials, dimensions, height, and price. The most important things to remember are your type of body, resting position, body weight, body temperature, and any backache or sleeping disorders.
One widespread misconception is that an orthopedic mattress is only required if somebody has neck or back discomfort problems or a specialist recommends it. In actuality, orthopedic mattresses make up nearly 79% of the bedding available on the market. A decent bed, therefore, avoids injury or back pain.
You might be shocked to learn that despite being one of the commonly utilized mattress types, the name "orthopedic mattress" still lacks widespread commercial acceptance. Any mattress can assert to be orthopedic if it helps your spine, back, ligaments, and bones. Any mix of materials may be used to make it. The need for orthopedic mattresses is significantly increasing as the prevalence of chronic back pain increases.
Numerous companies compete for your business by touting their superiority and offering you steep discounts. The fact that reductions are typically false, that is, reductions over exaggerated MRPs, is only sometimes evident to the end user.
So how do you narrow down to the best mattress for your body type? How do you choose one in case you are looking for relief from pain? Read more to find out!
India's top mattresses
India offers a wide variety of mattress types from which to pick. Researching and identifying a company that sells premium goods at competitive prices is critical. Choosing the ones that sell mattresses constructed from premium materials and cutting-edge technologies helps narrow down to the top-quality mattress.
Such mattress is mostly the best choice for your quality sleep because of their reputation for dependability, luxury, and affordability.
Which Mattress is Good for Health, Coir or Foam or Spring?
When it comes to choosing a mattress, you need to get into details to learn not just about something that will run longer, but to know more about what will help you run healthy for a longer period of time. The materials used in a mattress surprisingly plays a vital role in determining its quality. Read more to know which material would suit your body type.
Spring
Precisely enclosed springs used in spring mattresses reduce motion transfer throughout the bed. This indicates that throughout the whole mattress, every spring operates independently to provide refined comfort that reacts uniquely to varying pressure and movements.
You sleep in the same bed as a partner or kid who frequently tosses and turns. A mattress with pocket springs will guarantee that despite how many movements occur on one half of the bed, it stays confined, and the other side is left undisturbed. Adequate back support is required. Mattresses with three zones of pocketed springs significantly improve support and stability.
Coir
You desire a mattress that is both comfy and long-lasting. Coir or rubberized coir mattresses are comprised of coconut coir fiber coated with latex treatments, bringing together the benefits of coir fiber's airiness and breathability with latex's firmness. This product is made entirely of natural materials. Its intense humidity absorbing and aeration properties as a hygroscopic material make it an organic, well-cooled, and airy bed option.
Your spine needs the best support possible, which a very fluffy or bouncy mattress cannot provide. A coir mattress will maintain back support and spinal balance.
Foam
A nice, naturally ventilated bed is what you seek.
The most adaptable sleepers are foam ones since they provide a variety of comfort. These could differ from ultra-plush to extra-firm depending on the type of foam utilized, its thickness, and the consequent durability. Regardless of the lying situation or manner, a 3-zoned foam mattress incorporates three different types of foam into its composition to provide appropriate care for the body to maintain its natural appearance.
Step-by-step instructions for choosing a mattress
Step 1: Understand your lifestyle needs in the first step by asking yourself about your most pressing needs.
Step 2: Identify the Materials - Determine which material will work best for you in light of your sleep cycle.
Step 3: Identify your preferred sleep pattern. This will help you even more.
How to Choose the Best Mattress for Your Body Type
Try out the below quick tips to analyze what suits you the best.
What happens when the bed adjusts to the spinal column and neck when you have a backrest? Does this offer back and neck pain medication?

Material quality: organic materials are preferred over foams made of petrochemicals.
Durability: How long will a mattress hold up under regular use?
Compressed - It's not a beneficial move that many online retailers crush bedding into boxes.

Does the manufacturer provide a trial run during which you can try the mattress and replace it if you're not satisfied?

Services: How do customers find them? How clear are their warranties and return policies?
Final Advice on Mattress Care
Your bedding can quickly become a breeding ground for bacteria, dust, and grime. Your bed's lifespan can be readily increased if you take good care of it. By ignoring it, you risk damaging your bed and developing back problems. The Best Mattress for Your Body Type totally depends on your comfort level on using it. Don't hesitate to try out a couple of mattresses before you decide on any. There are many companies out there which may confuse you with their ideas around your body type and its connection with the mattress. Take your time, try our tips to boil down to one if you have trouble choosing any.
Stay tuned https://drajaythakur.com/ for more interesting topics and remedies from Dr. Ajay Singh Thakur, a renowned Consultant Arthroscopy and Sports Medicine Surgeon.
Read More: Strengthening Your Bones: 5 Easy Steps - Dr. Ajay Thakur