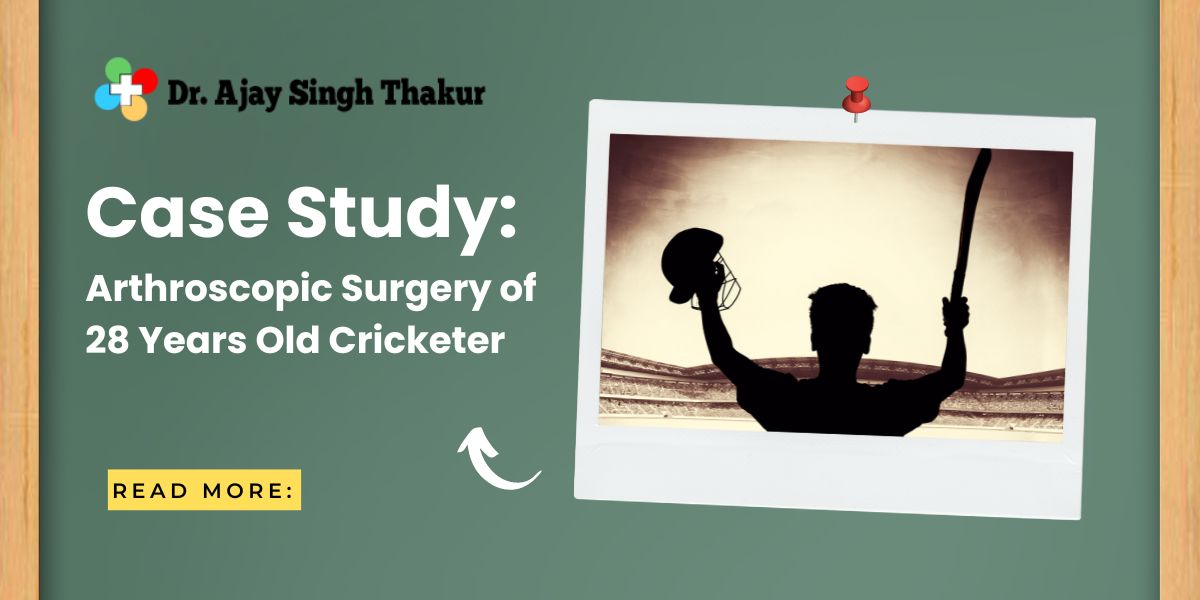 Santosh is a passionate cricketer who is 28 years old. To stay fit, as a sportsperson, he carried out various practices which included stretching, Pilates, running, and others that helped him stay fit and show better performance in the field. As a warm-up before any match and as a way to maintain fitness, all of these exercises were his favorite options.
However, during a certain match in a summer camp, he injured himself while their team was fielding. His shoulder got dislocated as he fell off while trying to get a catch! After this incident, his coach tried to provide him with first-aids and other ways to help him calm down the pain. But these were of no use and he continued to suffer from severe pain occasionally. Getting his dislocated shoulder back to the normal position was not an easy task with the coach's simple exercises.
After failed attempts and increasing intensity of pain, he visited my clinic to seek consultation on the matter. After assessing his condition, I advised certain tests to study further and confirm the dislocation and present condition of his shoulder. After looking at all the tests and the shoulder's position, the best advice I could give to Santosh was to undergo arthroscopic surgery.
This is one of the basic orthopedic surgeries that stands right after knee surgery. Santosh decided to follow my advice and opted for surgery as there were no other options to cure the dislocation. In this surgery, my strategy was to tighten the ligaments or torn tendons. The surgery also included repairing the stretched labrum, which helps in holding the joint in the correct location. The overall surgery helps in tightening and reviving these tissues.
He was admitted for the surgery and this entire surgery was done with the arthroscopic technique, which helps in minimizing the chances of damage to neighboring tissues. The shoulder joint was monitored Live with the help of an arthroscope inserted into the joint. It also provided magnified images of minute details.
After this, separate tiny surgical tools were used to fix the stretched ligaments and repositioned the same. All these were done with the help of the video provided by the arthroscope. Santosh was relieved of pain for around 10-12 hours after surgery.
He was discharged a few hours after the completion of arthroscopic surgery. He had to follow certain medications for around 2 weeks to cope with the pain. As the condition of his shoulder became better and pain reduced, medications were reduced as well. Also, he had to keep his arm in a completely resting position so that the tissues could heal properly.
To ensure the healing was going as planned, Santosh carried out regular follow-ups with me. I suggested various rehab sessions so that he could heal properly and continue his daily activities. He was given certain sports-centered exercises. And the sessions with the doctor focused on strengthening the shoulder without hurting the healing process of the tissues or causing any damage.
In the initial 4 weeks after surgery, massages and great therapies were used to soothe inflammation and pain. After gradual recovery from pain, he was advised to follow up with certain stretching exercises for arm muscles and shoulders. This is done to revive the motion and stability of the arms.
After amazing supervision for around 3 months after the surgery, he returned to his normal lifestyle. He followed different rehab sessions, which are a normal routine after arthroscopic surgeries. Following all these, he is in perfect condition and still plays cricket.
Shoulder dislocation is not an issue that can be solved with first-aids and simple exercises. Any Orthopedic surgeon will recommend you to opt for arthroscopic surgery so that the stretched tissues of the shoulders can be tightened. It helped Santosh in this case, to have a quick recovery and return to focus on his career. If he had not undergone this surgery, it would become difficult for him to play again.
For shoulder dislocation in young sportspersons or athletes, surgeons quite often advise them to opt for arthroscopic surgery. The same was the case of this 28-year-old cricket lover, who experienced this condition during one of his matches. Despite being helped by his coach, his pain did not soothe down and so he had to visit the physician.
Following all the tests, when I advised an arthroscopic surgery, he opted for it without much delay. This decision of the patient saved him from further damage and helped him in returning to his normal lifestyle and cricket as well. Eventually, Santosh played in important cricket matches, including playing for the Ranghi trophy!
Also Read : 5 Tips for Faster Recovery after Knee Replacement Surgery - Dr. Ajay Singh Thakur