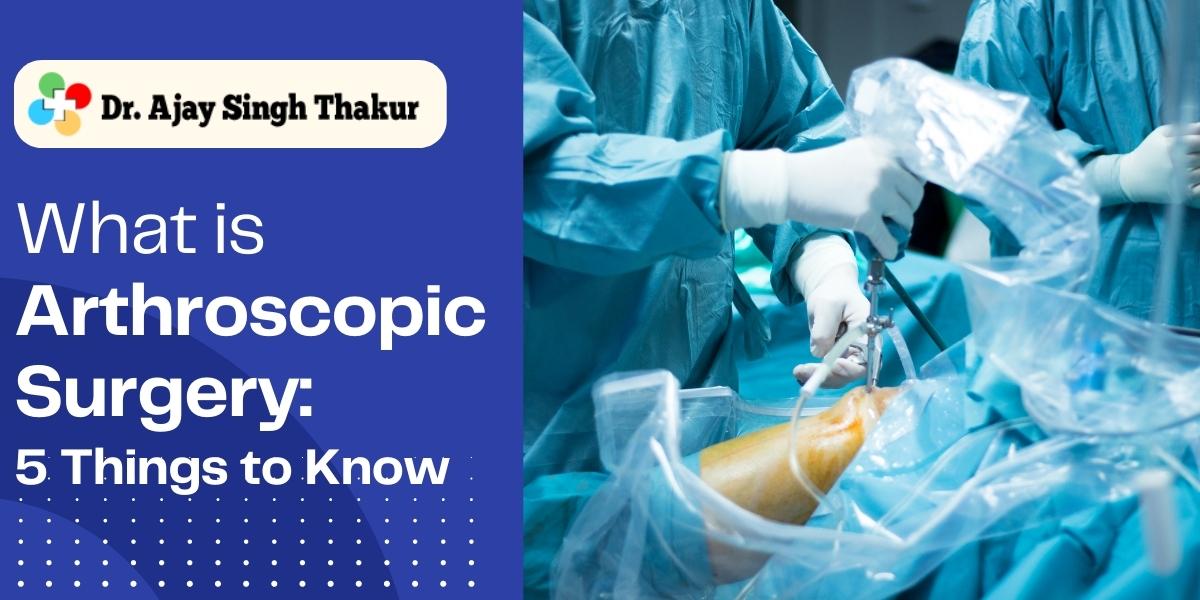 The idea of treating joint issues has never been easy. Joint pain can make it hard to get around on a daily basis, eventually preventing you from doing the things you love. Despite the fact that joint pain is a common issue, you don't have to live with it or resort to risky medications or invasive treatments to alleviate your symptoms. These pain, stiffness, and other common issues can be resolved in an hour with arthroscopy. In addition, this surgical procedure's recovery time is shorter and less painful than other options.
What is Arthroscopic Surgery?
Arthroscopy is a procedure directed to trace issues and conduct surgery inside a joint without making a large cut or incision. We put a lighted tube with a tiny end camera aka arthroscope and some surgical tools through small incisions for detailed diagnosis.
We usually choose arthroscopy as a treatment option if you've injured your joints or have joint inflammation. Any joint can be examined using arthroscopy. Most of the time we use this technique to treat knee, elbow, shoulder, and ankle joint problems. We have a dedicated group of orthopedic specialists at Star Hospitals who are experts in arthroscopy. Our Orthopedics department's orthopedic treatments are supported by cutting-edge methods and equipment. Visit our Orthopedics department if you're looking for an orthopedic doctor in Hyderabad. In order to guarantee a speedy recovery from surgery, the department collaborates closely with a physiotherapy team here.
5 facts to know about arthroscopy:
1) Arthroscopy is used for both diagnosis and treatment of joint problems


Arthroscopy is used by doctors to diagnose joint problems as well. The arthroscope, which has a small camera attached, is used by doctors to look for damage in the joints.Doctors can use the arthroscope to diagnose joint stiffness and pain, a buildup of fluid in the joints, floating cartilage or a bone fragment, damaged cartilage, and so on.
2) Arthroscopy is preferred over open medical procedures


Contrasted with open types of a medical procedure, arthroscopy is less obtrusive as it includes making a little entry point for embedding the test.The low-intrusive nature of the medical procedure implies the recuperation time frame is short and insignificant gamble of contamination. Additionally, arthroscopy involves fewer stitches, less tissue damage, and less pain over other surgeries.
3) Crucial Steps to follow before the surgery


When the doctor decides to perform an arthroscopy as a treatment option, he or she will give you specific instructions on how to prepare for the procedure. It is crucial to follow these steps.Your medical history will be looked at by the doctor. You might be told to stop taking some medications a few days or weeks before the surgery. Also, you might be told not to eat or drink certain foods or drinks for a few hours before the surgery.Make sure to tell the doctor everything you know about your health right now so they can help you properly prepare for an arthroscopy.
4) Types of arthroscopy procedures


Knee arthroscopy, ankle arthroscopy, wrist arthroscopy, hip arthroscopy, elbow arthroscopy, and shoulder arthroscopy are among the various types of arthroscopy procedures.Arthroscopy can treat a number of non-knee joint conditions, including impingement syndrome, shoulder dislocation, and carpal tunnel syndrome.
5) Post- Surgery and recovery


Despite the short recovery time of arthroscopy, it is essential to ensure that you get enough rest. You may be given certain medications by your doctor, make a point to consistently take them. Comfortable joint protection, such as crutches or slings, may be required for a short period of time depending on the treated joint problem. Physiotherapy may be suggested to help you strengthen your joints and make them work better.
Being a minimally invasive surgery arthroscopy only takes an hour for many people, but the total time depends on the complexity and procedure. The day after your procedure, you will most probably be able to return home. At least for the first day, you will want a friend or family member to watch over you at home. Maintain the said hygiene to recover quickly. Make sure you show up to your follow-up appointment with your surgeon, which will probably be a few days later.
At Star Hospitals, we have some of the best orthopaedic knee doctors in Hyderabad. Visit our hospital for advanced treatment for knee problems. We are well-versed in cutting-edge methods for diagnosing and treating knee issues.Make an appointment with one of our orthopaedic doctors at if you live in Hyderabad.
Visit: https://bit.ly/3HUBMUn to know more about Dr. Ajay Singh Thakur, a renowned Consultant Arthroscopy and Sports Medicine Surgeon.